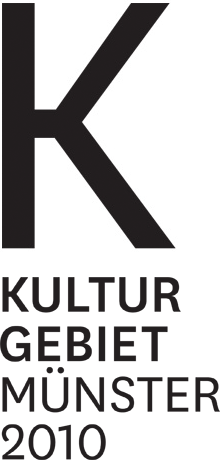 In 2010 Münster will become a diverse and exciting REGION OF CULTURE (KULTURGEBIET). Nine completely newly conceived series of events will be presented, both unusual and familiar. They are self-contained and cleverly woven together, with an international and local flavour.
Major cultural institutions as well as representatives of the city's independent scene have devised and developed a programme with the Cultural Department of the City of Münster – a programme that is arresting, innovative, distinctive and forward-thinking. It cuts across genres, institutions and generations and displays the distinctive cultural characteristics of Münster.
It is no coincidence that the event series, REGION OF CULTURE, is taking place in Münster when the neighbouring Ruhr region is celebrating its designation as European Capital of Culture. Münster affirmed its cultural profile during the application process as a competing applicant in 2003 and 2004.
The following partners have joined forces in 2010 in highly varied, established, and also newly formed cooperative relationships: Austellungshalle zeitgenössische Kunst Münster – AzKM (Münster Exhibition Hall for Contemporary Art), Cactus Junges Theater, Deutsch-Ungarische Gesselschaft Münster (Münster German-Hungarian Society), GWK – Gesselschaft für Förderung der westfälischen Kulturarbeit e.V. (Society for the Advancement of Westphalian Cultural Work), Kulturamt der Stadt Münster (Cultural Office of the City of Münster), Kunstakademie Münster (Academy of Fine Arts Münster), Literatureverein Münster (Münster Literature Society), NRW KULTURsekretariat Wuppertal (North-Rhineland-Westphalia Culture Secretariat, Wuppertal), Städtische Bühnen Münster (Münster City Stages), Stadtmuseum Münster (City Museum of Münster), Westfälische Schule für Musik (Westphalian School for Music), Westfälische Wilhelms-Universität Münster (University of Münster), …as well as many other stakeholders

KULTURGEBIET Münster 2010
Grußwort von Markus Lewe, Oberbürgermeister der Stadt Münster